Battlefield 1/Megalodon
Jump to navigation
Jump to search
Megalodon
Awaking the Megalodon
Creator
DICE
Status
Completed
Discovered
2017-04-27
Main Page > Battlefield 1 > Megalodon
On the map Fort de Vaux, a Megalodon can be seen erupting from a puddle once three steps have been successfully carried out, killing everyone inside the puddle. The Megalodon is considerably smaller than the ones previously found on the maps Nansha Strike and Paracel Storm in Battlefield 4.
NOTE: The Megalodon trigger cannot be activated during the pre-round phase or in password-protected servers.
Vinyl Records and Gramophone
A vinyl record spawns in one of 5 possible fixed locations per round. It can be picked up and placed on the gramophone in the barracks. Upon interaction with the gramophone, a muffled piano song can be heard.
The vinyl record itself has a label that reads "Les Requins, you're gonna need a bigger moat!" ("Les Requins" is French for "The Sharks")
Gramophone Song
The song has a 80bpm tempo, consists of only natural notes and spans 4 octaves. It is enciphered using the French Musical Cryptogram and it decodes to the following message:
SO YOU ARE HERE FOR THE SECRET THAT LIVES BELOW VAUX
ARE YOU SURE YOU ARE READY FOR THIS JOURNEY
DO NOT THINK IT WILL BE EASY AND
DO NOT EXPECT ANY REWARD
ALL YOU WILL FIND IS DEATH
A HINT THAT IS ALL I HAVE FOR YOU SO LISTEN CLOSELY
THE MEN THAT LIVED HERE KNEW ITS SECRET
SEARCH WHERE THEY RESTED WHEN THEY DID NOT WORK
6x6 Key Square
Once the player has interacted with the Gramophone, a 6x6 key square appears on the book found next to the Gramophone. This will be used as the Alphabet Key of an ADFVGX cipher to decrypt some morse code messages later on.
6Z8QV147DGPJ5EIHKAUS9CFX3OTYBRM2NLW0
Chair Morse
Three special wooden chairs can be found around the fort, which is where the soldiers rested, as hinted in the Gramophone song. Sitting on them will cause a nearby light to blink morse code, along with revealing a clue about the keyword required to decode it. All morse code messages are encrypted using the ADFGVX cipher and the same 6x6 key square mentioned earlier. The decoded messages reveal clues on how to awake the Megalodon.
NOTES:
Blinking light and clue may be obstructed by destructible walls or other objects.
Stepping off the chair will stop the blinking and hide the clue.
Blinking light is endlessly repeatable when stepping off and on the chair spawn.
---
Generator Chair
Ciphertext: FF DG DF DF VD FG GV FD FF FD FG FX FV FV GF GF GG FG DG VD VF XF XF VX VX FG XD FV VF FF FF XD FV DF GF XF FX FX FD FX XD DX FF FD VD FG DA GA FA GD DD FF XD GD VF GF DF FF DV VV VG FV DX FV GG VF VG XG FX GF AD VD VD FD DG FD DV DF VX
Clue: DANIEL AX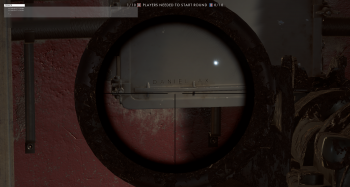 Confirmed Keyword: DANIELAX
Plaintext: DREITREUESEELENWERDENDABENOETIGTWOESOFFENSICHTLICHISWOESDUNKELISTUNDTIEFIMPRECK
German: Drei treue Seelen werden da benoetigt, wo es offensichtlich ist, wo es dunkel ist und tief im Dreck.
English Translation: Three faithful souls will be needed where it's obvious, dark, and deep in the dirt.
---
Munitions Chair
JackFrags' Code
The number 04570 engraved on the back of a tobacco tin received by JackFrags
Ciphertext: GF DV DG XG AF XV XA FF XF DD XV DG DX DG FV VX DX VF VD AA FG VA XX FG VX VF DG AF XG GV FF DF GF VF VF GV GD XV FG FD XX
Clue: 0_ _ _0 A hint to the number 04570 found engraved on the back of a tobacco tin in a care package sent to well-known Battlefield 1 YouTuber JackFrags. Converting each zero into the letter O, and converting the 4, 5 and 7 to their equivalent letter gives the required keyword.
Confirmed Keyword: ODEGO
Plaintext: LABETEDORTSOUSVAUXSEULLEBRUITLAREVEILLERA
French: La bête dort sous Vaux. Seul le bruit la réveillera.
English Translation: The beast sleeps under vaux only noise will wake it up.
---
Kitchen Chair
Ciphertext: VG GV FF XX VV VF FF FV GF DX XX FF DX DX VF GF DF FX FF DV DV FG DF AF DF GG XX VV FF FX VF XF GF FV XF XD GX AD DX GF GG GV FX VD XD FG VV VD FG
Clue: 8 + 5 = ?
VV FD VG FF VG
DV AD FG DF XD
Confirmed Keyword (To decode the clue): DANIELAXODEGO
Plaintext/Confirmed Keyword (To decode the morse code): BFEEISLOVE
Plaintext (From morse code): BRINGSACRIFICESTILLTHEWATERTURNSREDMAKEITPERSONAL
BRING SACRIFICES TILL THE WATER TURNS RED MAKE IT PERSONAL
Activating the Megalodon
Valves
Three faithful souls will be needed where it's obvious, dark, and deep in the dirt.
This clue is referring to 3 valves found inside and around the fort. To complete this step, the three valves must be interacted with at the same time. (3 players are required)
NOTES
Valve marked no.1 on the screenshot below is underground and must be uncovered using explosives.
The valves are not interactable during the pre-round phase.
Once all three valves have been interacted with at the same time, a small puddle near C flag (in Conquest) will start filling up with water from three separate pipes.
Drain Hole
The beast sleeps under vaux only noise will wake it up.
Near B flag (in Conquest), there is a drain hole hidden under a pile of boxes. A grenade needs to be thrown down the drain hole to awake the beast.
Sacrifices
BRING SACRIFICES TILL THE WATER TURNS RED MAKE IT PERSONAL
Finally, 3 melee kills must take place inside the water puddle. The puddle will turn more and more red after each kill. When one or more players enter the puddle a few seconds after a 3rd melee kill has occurred, the Megalodon will erupt from the puddle, killing everyone standing in it.